Developer for visionary projects
Hi there! I'm Jenny, your key to developing visionary projects. With a blend of focus, joy and a limitless mindset, I turn ambitious ideas into successful realities.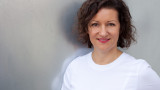 Never stop creating!
My world view is unconventional and cutting edge. Built on experience and continuous learning, I amplify projects by merging human creativity with AI. Your plans aren't just executed - they're elevated, making them more impressive and relevant.
Adaptable to challenges and ready for pivots, collaborating isn't just a method; it's a principle for me.
My work signature? Aesthetic orchestration, resource intelligence and a spirited team dynamic. Driven by this creative flow, I foster growth in ideas and people.
Whether entrepreneurs or CEOs, startups or giants, I quickly grasp, conceptualize, and reliably mobilize the right teams to breathe life into these visions.
My projects? Diverse. From innovative business strategies to avant-garde real estate concepts, I bring analytical brilliance to ensure they all navigate complexities and pivot effectively, shaping both the current landscape and future horizons. And I infuse each one with unmatched adaptability and passion.
Ready to fast-track your next big thing? Let's connect and speed up.
Professor Thomas Knerer, architect and Director, Knerer und Lang Architekten, Dresden and Munich, Germany
It is impressive to see how Jenny draws strategic conclusions with an open mind. That allows her to facilitate novel and surprising developments in projects.
Meho Koric, Investor, real estate developer and CEO, PIN Agencija, Sarajevo, Bosnia
She is a business partner who consistently achieves best results and exceeds expectations. At all times, I have found her to be reliable, conscientious and helpful in a delicate business environment.
Stacey Trenteseaux, Executive Director Opera Mississippi, singer, coach, mentor, Jacksonville, Florida, USA
Jenny is an intuitive, creative and inspiring person. Our conversations were filled with creative brainstorming, finding inspiration and then innovative action planning for the next project. Working with Jenny was an organic process that pushed my boundaries and inspired me as an artist and entrepreneur.
Frank Steinert and Gerd Göbelbecker, property developers, Dresden and Chemnitz, Germany
Jenny merged different experiences and perspectives to form a powerful vision, creating something quite out of the ordinary. Ultimately, it is always the quality of the concept that determines the success of a property development project.
Markus Drieschner, Project Assistant, die fabrik chemnitz, Chemnitz, Germany
With her warm personality and wide-ranging expertise, Jenny succeeds in developing her team and everyone around her in a positive way. I found Jenny's energy to be the magic ingredient that turns mere ideas into forward-looking solutions.
Andreas Weber and Mathias Illgen, Managing Directors, Stan Hema, Berlin, Germany
Jenny understands what a holistic brand experience means, and is also capable of organising processes in an agile manner. She doesn't let outside influences distract her from her objective. She passionately supports projects; her energetic aura is irresistibly infectious.
Michael Kern, restaurateur, organiser of cultural events and yoga instructor, Munich, Germany
Jenny is always an extremely attentive listener. Her gift is grasping things in seconds and making systematic sense of them. That gives any content-related discussions a direction afterwards and keeps them moving forwards .
Werner Aisslinger, designer, Berlin, Germany, and Singapore
Successful projects always come about when commitment and the right team come together at the right time – a calculated match between sparring partners who conceptualise the future together. Jenny brings these teams together and allows energy to evolve in a way that is only possible in special, curated settings like these.
Felix R. Krull, photographer, Dresden, Germany, and USA
What started as a job became a truly enriching professional and personal experience working with the dedicated and brilliant team. It's not every day that all stakeholders in a project find as much enthusiasm and drive, expertise, creativity and inspiration in the air.
Tino Lang, CEO zebra I group, Chemnitz and Dresden, Germany
While you are still looking for the fuses with your flashlight, Jenny comes into the room and switches on the light. It's masterful how she sees the big picture and does what's obvious.
Dr Bernd Kugelberg, Managing Director, Schneider + Partner, Dresden, Germany
In all my time as a consultant, I have never met anyone who could analyse a situation – including the people involved – as quickly and brilliantly, and draw the required conclusions as logically.
Malte Ziegenhagen, former basketball captain, coach and community manager, Chemnitz, Germany
Jenny is a person who immediately has a positive impact on your project. She speaks the language of the project & connects it with exactly the right partners from her wide-ranging & international network. Their thinking is always innovative, which turns the seemingly lost project into real hacks.